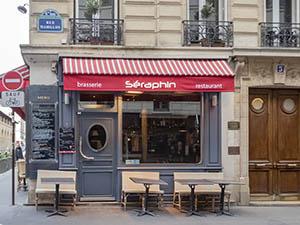 Séraphin
posted April 14, 2019
5, rue Mabillon
75006 Paris
Phone: 01.56.24.41.00
Metro Station: Saint-Sulpice (Line 4), Mabillon (Line 10)
Type of cuisine: French
Days & hours of operation: Open every day from noon to 2:30 p.m. and 7:00 p.m. to 11:30 p.m.
Credit card: Visa, Mastercard, American Express
Séraphin is a restaurant that may once been a grocery store located across the street from the old Marché Saint-Germain. We stepped inside and viewed a long, narrow dining room with a wide façade that faces the market.
The floor appears to be genuine hardwood with a terra cotta tile inset in the center of the largest dining area. Undraped tables are dark wood, and the chairs are cushioned in orange and black vinyl. We sat down next to a bookcase that displays a very old set of Encyclopedia Britannica. For the first hour that we were there, we heard popular music over the sound system — including "Fast Car" by Tracy Chapman and "Stand by Me" by Ben E. King. Toward 8:00 p.m. the music devolved into annoyingly repetitious lounge music featuring bass guitar and drums.
Apéritif
I ordered a Leffe, served on tap. An amber-colored brew (incorrectly described by the waitress as "blond"), it was a rather strong-tasting beer that didn't quite go as well with my meal as I had hoped. My partner ordered a glass of Trivento, a red wine from Argentina with animal notes and a flavor of stewed fruit. We both nursed these beverages throughout the meal.
The menu
The restaurant offers a two-course fixed-price lunchtime menu for 20.50€. In the evening, the carte is extensive, with seven starters ranging in price from 7.50€ to 13.5€, three salads from 13.90€ to 15.50€, four fish dishes from 15.80€ to 24.50€, four meat dishes from 15.50€ to 25.50, and eight desserts all priced at 8.90€.
There is also a board listing the suggestions of the day: a starter at 8.50€, a main course at 19.50€ and a dessert at 8.00€.
The starter
I chose to order from the board and requested a Salade de chèvre chaud, miel et amandes. The waiter brought be a plate containing a generous disk of warm goat cheese resting on a bed of green salad, thinly-sliced radishes, julienned carrot, and dried tomato. The cheese had been drizzled with honey and sprinkled with thinly-sliced roasted almonds. I was pleased with this dish — it was flavorful through and through.
My partner opted for Petite salade de nems à la menthe fraiche, sauce aigre-douce. She received a deep bowl displaying three nems sliced diagonally and resting on a mixed-green salad dressed in vinaigrette. She enjoyed the dish and stated that the nems were light and crispy.
The main course
The board listed Pavé de cabillaud, sauce chorizo, purée de pomme de terre as the main course. The waiter produced a plate containing a slice of fork-tender cod resting on a disk of buttery mashed potato. A layer of chorizo sauce between the fish and the potato gave the dish a wonderful spicy flavor.
My partner ordered a California cheeseburger served with Thousand Island dressing, fries, salad, and with what we thought was a slice of processed American cheese. She was only moderately satisfied with this dish, stating that the burger was O.K. and that the fries were bland, even after we gave them a sprinkling of salt to liven up the flavor. I helped her eat the fries.
The bread
Diagonally-sliced fresh baguette was served alongside in a metal bowl. The crust lacked crispness.
The dessert
The board listed Ile flottante and I was eager to order that. I received a large cube of meringue floating in a pond of crème anglaise. Sprinkled with thinly-sliced, roasted almonds and drizzled in caramel sauce, this was a great finish to the meal. The meringue was firm, and yet it yielded easily to my fork. The crème anglaise in which it floated was dense and delicious.
My partner opted for Crêpes, caramel beurre salé et crème mascarpone. The waiter served a large plate containing two warm crèpes generously coated with caramel syrup. Two dollops of mascarpone cream, a half of a gariguette strawberry, and a mint leaf garnished the dish. It was a satisfying end to her meal.
The bill
The bill for two, including one beer, one glass of wine, one espresso, two starters, two main courses, and two desserts, came to 83.70€.
The service
The service was friendly and, at the beginning, rapid. After a large group of customers arrived the service slowed considerably. The waitstaff handled the crowd with poise and cheer.
The ambiance
We were among the first customers in the restaurant at 7:00 p.m. By 8:10 p.m. the dining room was almost full of customers chatting noisily with each other. As far as we could tell, almost all them were French.
Travelers to Paris seeking to dine with locals at an authentic Parisian restaurant in the Saint-Germain quarter will enjoy coming to Séraphin.