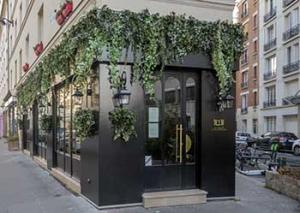 Le Grand Dictionnaire
posted November 04, 2019
19, rue Pascal
75005 Paris
Phone: 07.66.40.17.65
Metro Station: Censier-Daubenton or Les Gobelins (Line 7)
Type of cuisine: Innovative French
Days & hours of operation: Tues to Sat 6:00 p.m. - 10:30 p.m.
Credit card: Visa, Mastercard
Opened just four months ago, Le Grand Dictionnaire is located on the sharp V-shaped intersection of rue Pascal and rue de Valence in Paris' 5th arrondissement. The restaurant is small – we counted 9 marble-topped tables when we entered – and we immediately noticed the black-and-white checkerboard tile floor. A bare-stone wall frames the semi-open kitchen at the back, and spot lighting illuminates the dining area.
The waitress invited us to take a table by the window, where we could see the four-star Hotel Monté Cristo across the street. We learned later that the restaurant and the hotel are part of the same commercial establishment.
Apéritif
We each ordered a glass of Taittinger champagne. Crisp and refreshing, it had a super-fine fizz and a lovely fruity flavor.
The menu
The menu is not displayed in the traditional format of Starter, Main Course, and Dessert. Rather, it simply lists dishes that one can order according to one's fancy.
The waitress explained that the six dishes at the top of the list, ranging in price from 8€ to 12€, could be considered starters; the next six dishes, all priced at 12€, could be considered main courses; the next three dishes, ranging in price from 8€ to 11€ were side dishes; and the final three dishes, priced from 6€ to 10€, were desserts.
The waitress encouraged us to share our dishes with each other if we wished.
The starter
For the starter, I selected Noix de Saint-Jacques snackées, supreme d'orange et purée de céleri. I received a small, shallow bowl containing three seared, plump jumbo scallops and two fingers of sautéed turnip, all resting on a bed of celery purée. Topped with diced orange and wispy mustard sprouts, the dish was a wonderfully flavorful beginning to the meal.
My partner ordered Focaccia du jour, a serving of sesame-seed-studded eggplant caviar mounted on a slice of lightly-toasted focaccia. She was pleased that the eggplant preparation did not taste garlicy – in fact it had an enticing smoky flavor. She declared that the champagne was a good accompaniment for this dish.
The main course
For the main course, I opted for Poulpe de roche grillé au saté, coulis Provençale et sauce piperade. The waitress served a wide, shallow bowl containing a portion of pan-seared tentacle of octopus topped with bits of orange and strips of red pepper. Resting in a pool of red-bell pepper coulis, the octopus, though chewy, was succulent and delicious.
My partner chose Poitrine de porc du Tarn de chez Sept Monts confit à la bière, choux vinaigré. The waitress brought a shallow bowl containing two slices of pork belly prepared with beer resting on a bed of pickled cabbage and topped with mustard sprouts. The pork was a bit under-salted for her taste but otherwise, she found the dish to be quite satisfying.
The side dish
For the side dish, I selected Mini carotte confite, sabayon citronné et quinoa croustillant, a dish of slender dark-roasted orange and purple carrots served with whipped lemon custard (sabayon) on a bed of crunchy quinoa. The carrots had been sweetened before roasting, a process that gave them intense caramelized flavor. It was almost as sweet as a dessert, rather than a side dish of vegetables.
My partner requested Choux fleur roti aux épices et crème aigre, a dish of roasted cauliflower florets and their accompanying leaves served with a dollop of lightly-mounted cream flavored with curry and ras el hanout. It was an unusual dish, because, as with the carrots mentioned above, the leaves looked almost burnt. They added unusual texture and flavor to the dish.
The bread
Slices of toasted, buttery focaccia were served alongside on a bread dish. The bread was light in texture like French brioche.
The beverage
For her wine accompaniment, my partner selected a glass of Côtes du Rhône, Domaine Pélaquié, Galia 2016. She found it to be medium-bodied and moderately tannic with a fruity nose. She enjoyed this with her pork and cauliflower.
The dessert
The dessert selection was limited, but I found what I wanted in the Mœlleux au chocolat et éclats de noisettes, glace et coulis au caramel beurre sale. The melted-chocolate cake had been flattened on the plate. Served sprinkled with broken peanuts and accompanied by a large scoop of vanilla ice cream crisscrossed by a drizzle of caramel sauce, it was a delectable dessert.
My partner sprang for Focaccia comme un "Pain Perdu" banane et crème montée and received a thick slice of focaccia prepared like French toast. Served with a mound of caramel-drizzled Chantilly, it tasted buttery and tender.
The bill
The bill for two, including three glasses of champagne, one glass of wine, two starters, two main courses, two side dishes, and two desserts, came to 122€.
The service
The service was friendly and helpful. The waitress expressed considerable enthusiasm for the food and beverage that the restaurant serves.
The ambiance
The elegant décor and subdued lighting of this small restaurant create an intimate feeling. While we dined, a variety of music that we couldn't quite identify played over the sound system.
Travelers to Paris who wish to experience adventurous dining on imaginatively-prepared dishes that don't conform to conventional classifications of standard French fare will enjoy coming to Le Grand Dictionnaire.